Information:
Dropped shoulders;
Ribbed collars;
Round neck
Long sleeves;
Composition: 100% merino wool.
Sizes:
Sizes: XS / S (width 48 cm, length 65 cm, sleeve length 75 cm);
S / M (width 50 cm, length 65, sleeve length 75 cm);
M / L (width 52 cm, length 65 cm, sleeve length 75 cm).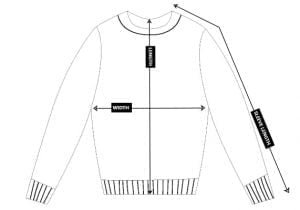 Model Paulina is 1.75 cm, chest 80 cm, wearing XS / S size.
Clothing care: We recommend hand washing in water at 30 degrees Celsius. Stir the detergent well before submerging the knot in water. Wash the knit in a circular motion, do not rub, rinse well in clean water. Then wrap in a dry towel to absorb the water and dry horizontally on a flat surface naturally. When steaming, use a clothes evaporator or a simple cord, and place a damp cloth between the belt and the knit.
Don't see you size or color? Contact Us.